We managed to get one of our teams into the final of the CyberCenturion V competition. This is the same team that won last year's competition (if you didn't know already) so it was nice of them to be able to get to the final again. To commemorate last year's victory, and to continue with the naming convention that the team had used in previous competitions, this year they'd called themselves "Now You 'C' Me" The main change this year was that the eldest student had to go off to university, but luckily our team managed to find someone who was more than capable on Ubuntu so that helped immensely to get us through the competition rounds.
Speaking of the competition rounds, there have been a few changes to encourage as many people as possible to get into cyber security. In addition to the "streams" that were introduced last year (all boys, all girls, mixed and cadets) there have also been changes made to the age ranges too (juniors: 13-14 year olds, seniors: 15-18 year olds). Therefore, there were 15 teams in the finals this time (the top team in each "stream" automatically gets through to the finals, as well as the top 1 additional junior level and top 6 additional senior level teams). Our school had entered five teams, and while our junior team was 1 position off getting to the finals, our senior team was ranked third overall (1 point off joint second, 12 points from being first). Additionally, these competition rounds went quite smoothly for us – no school closures due to snow, fire alarms going off or delays in receiving the correct passwords to unlock the images. The only problem we had was that the MD5 checksum for the round 1 Windows 10 image was copy-pasted incorrectly [spoilers…].
---
6th March 2019
We agreed to leave school at half 1. Our train was at half 2, so that would give us plenty of time to get to Birmingham New Street and board the train to London Euston. However, our team had decided to purchase hoodies to wear and these needed to be picked up. Therefore, the computing teacher and 2 students caught a taxi to go and pick them up, meaning that I got the fun job of escorting the remaining 3 students through town to the station. Unfortunately, just as we were about to walk out of the school, there was torrential rain! Typical. I decided to get my umbrella out, mainly due to me not wanting to be too wet, and we headed out of the door. As soon as we headed out, though, the rain had stopped. Not even drizzle. Just, not rain. We took the opportunity to leave now and started to head into town.
As we were nearing Birmingham New Street, 30 minutes later, it started to rain again. Heavy enough to need my umbrella (good job I kept it out) but not too bad. We walked into the station and saw that the remaining members of our team had managed to pick up the hoodies and were waiting for us (the hoodies had only just finished being printed). The students that had walked to town with me put their hoodies on too, and there was a quick photo opportunity. The hoodies were designed by the students and had the initials of the person on one sleeve, the number of times they'd got into the final on the other sleeve, and the logo of their preferred operating system the student would be using in the final on the back. However, it was pointed out that there had been a very slight oversight, in that the team name was not anywhere on them. Oops…
There wasn't really any time to have lunch in school due to the time that we had to leave, and some of the students wanted to have snacks on the train, so they went off to find some. One of our students came back quite quickly, while the remaining 4 students had disappeared off to another store (Birmingham New Street station and Grand Central is spread over two floors, and this store was on the upper floor [and good on the Bullring for still supporting IE 6 users and Flash – seriously, go view the source of this page]). It was nearing quarter past 2 by now and there was no sign of them. At 20 past, the student who was with us called the group to ask where they were, and it turned out that one of the students was having problems with the self service checkouts (great, a student who is in a competition with computers can't even use one). The computing teacher and myself were wondering which of the students would be purchasing the tickets for another train, when they finally turned up! We hastily grabbed our bags and headed towards the ticket barriers.
When we went to the final last year, one of our students had a problem with not being able to scan their ticket via their phone as it kept rotating on the screen and cutting part of the Aztec Code off, so I reminded them to put their screen rotation lock on. They did so, but also somehow force-closed their emails which were open in a browser tab, which had the ticket displayed. It was 25 past now, and it took the student, well, a few attempts to be able to log back into their school emails (they blamed me, and the email server – I blamed them) and open the attachment. Most of our group went through the barriers and onto the platform, so it was only that student and myself left. Luckily he managed to load the ticket, get it scanned, and we made our way down to the platform too. Just to make sure that we didn't miss the train, we hopped on to the nearest carriage and decided to walk along inside. After going through a few carriages, we met up with the remainder of our team, who seemed quite relieved that we'd been able to make it.
The train was quite full, but we had seats booked, so we knew we'd not have to stand. There were a number of people who were sitting in our seats, but luckily they moved without a fuss, and our team took their rightful seats. On the journey the students had been given maths papers to do by one of their teachers, but – let's say to make sure they kept their minds on the competition – they "postponed completing them until a more suitable date and time in the future". The train journey itself was quicker than last year's, about an hour and a half, as we went on a train that didn't stop at as many stations.
After arriving at London Euston, we had to get onto the underground. This was due to the hotel and event taking part in Stratford at the Olympic park, so there was a bit further that we had to travel. Helpfully there are lots of signs to advertise which direction you need to go in, for us "touristy" types. The computing teacher purchased some underground tickets for us, then we went through the barriers (no problem this time, may I add) and headed down to the platform on the Victoria line. The tube train was quite full, so after we got on we were standing near the doors. The first station that it pulled into (Warren Street) after we got on had the platform on the opposite side that we were standing, so that wasn't a problem. However, the next platform was on the side we were standing by. I got off to let people out, hoping to jump back on quickly, then was told that it was the station we needed to get off at anyway (Oxford Circus). From there, we made our way to the Central line. This was a bit of a walk through some corridors, but we arrived on the platform when a train was pulling in (I must say, tube trains are very frequent). This was a longer journey, but luckily the train wasn't too full so we managed to get some seats when people got off.
We got off at Stratford station and headed to the exit. To get to where the hotel was, we had to go past the Westfield shopping centre and over a bridge which was which crossed many train lines. We managed to see the Orbit sculpture and took a few photos. From there, we carried on walking in a mostly straight line and arrived at the hotel by 5 o'clock. We walked in through the entrance and introduced ourselves to the receptionists. They had a selection of post-it notes with the teams, and said that they'd just finished sorting out ours. We were handed the keys and were told that breakfast started at half 7. We then headed up to our rooms.
Our students had rooms on the 7th floor, whilst the computing teacher was on the 3rd, so we headed up to their rooms first. However, while we were sorting out the keys in the lift, it turned out that we were 1 short (2 double rooms and 1 single for the students, 1 each for us 2 members of staff – 5 rooms in total. We only had 4 keys). The computing teacher headed back down to ask for another key, while the students had a look at their rooms. Now, whether the students were still used to the key cards from the rooms at the hotel we stayed in for the finals from last year (when you could just wave them near to lock to open it) or if it was a case that they were just not paying attention, but one student took a number of attempts at waving the key in front of the lock before the student they were sharing a room with pointed out that they key needed to be inserted instead! After a few failed attempts at doing this part too, they finally managed to gain access.
The students had a look round their rooms and mentioned about how large their bathrooms were (as they were wet rooms for disabled guests) while I stayed out in the corridor with one of the students who didn't have a room. A few minutes later, the computing teacher returned with the rooms sorted. It turned out that hotel staff weren't quite sure why we needed another room, but after saying that a member of staff can't share a room with a student, they then understood. We left the last student to get settled and headed down to our rooms.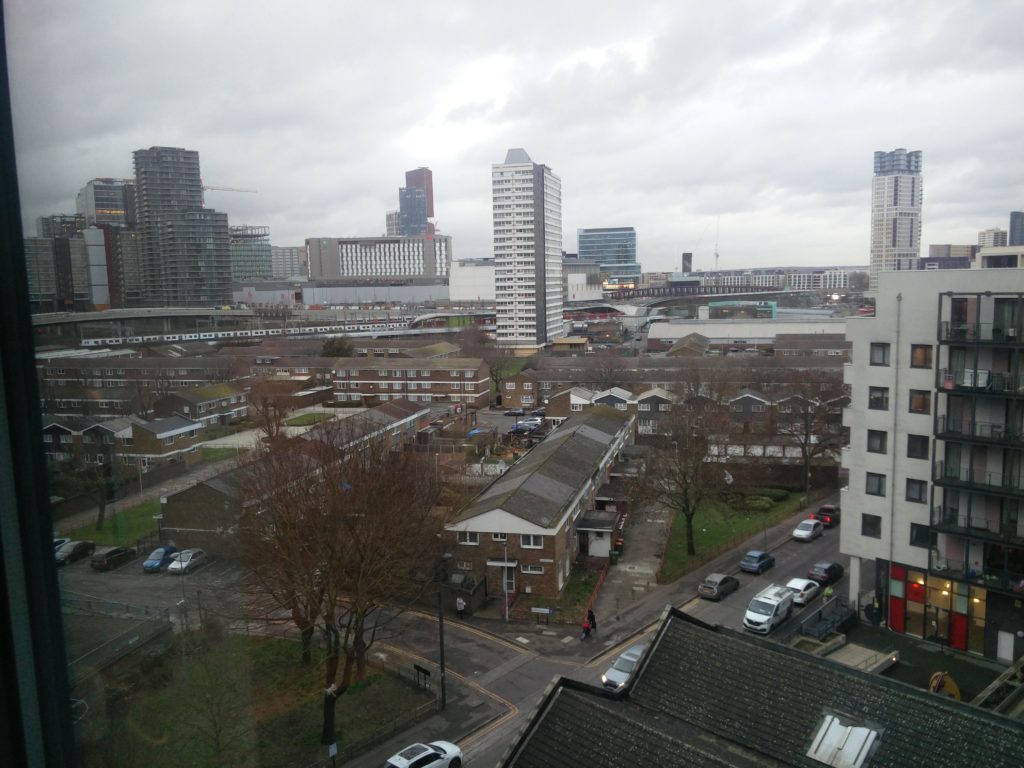 Our rooms were at different ends of the hotel, so after getting out of the lift we went in the relevant directions to try and find them. After attempting to gain access to my room (by inserting the card, not waving it), I was denied access. I tried a few more times using different speeds to insert and remove the card, but couldn't get anywhere. Giving up, I started to head back to the lift area with the intention of asking at reception, when I met the computing teacher who was doing the same. Before we did, and to try not to bother the reception staff again, we swapped keys to make sure that they'd not just accidentally been mixed up. Unfortunately, this plan didn't work, so we headed back to reception to get them reprogrammed. Upon heading back to our rooms, and hoping for the best, we were then able to gain access to them.
We'd agreed to meet up again at 6 o'clock (which was lucky, as it gave us time to sort out our rooms) and met in the lounge / bar area. We had a look at the menu on offer, but not fancying much (and having a student who was vegetarian) we decided to head out to the Westfield Center as it was within walking distance and there would be a selection of restaurants for us to choose from. The computing teacher and myself headed back up to our rooms to collect coats then, after meeting up again with the students, we headed out of the hotel.
After arriving at the Westfield Center we headed over to the food court area to see what restaurants were available. There was a short discussion as we decided upon what everyone would like to eat, but we settled for Zizzi, as it offered food for all of our students. Once we were seated, a few of us had a look to see if there were any vouchers or discounts available and managed to find one for 20% off (What? We didn't have the luxury of "all expenses paid" meals this time). It was then time for everyone to decide what they wanted to order (as we'd already been asked if we were ready). As we were deciding on what to eat, a group of girls came over to ask if we were the winning team from last year's competition. Our team said that they were, and the group that came over to us said it was the first time they were competing. Talk about being famous!
The food arrived without too much of a delay, although my starter arrived much later than everyone else's (I had started to think that I'd been forgotten about, like at the hotel), and we all commented on the large portions that we'd received. A few of us had garlic bread with mozzarella cheese for our starters, and they were laid out on a very long piece of wood (8 slices in total, pretty much a whole pizza) then our mains arrived. For those of us who had chosen a pasta we were pleased to see that they were reasonably portioned, especially after those starters, but the pizzas were humongous!
It took about two hours for us to finish our meals, although we weren't in a hurry and were chatting quite a bit during the meal too. After finishing our food, we paid up and headed back to the hotel. There were a few photos opportunities again, as it was currently night time (obvious, I know) and there were various buildings lit up. For some reason, there was also a green laser pointing into space, but we didn't know what this was for.
After heading back to the hotel, the students headed up to their rooms, while the computing teacher and myself hung around in the lounge area. We talked about the competition and how the team's could be arranged for next year's competition (we may even finally get a girls team!). The students did pop down for a bit, then headed up to their rooms again. There was a football match showing on the TVs in the lounge, and the majority of the students in the competition were watching it. Except ours. They were pretty much oblivious to what was going on. Even when an important last minute goal was scored. Actually, I can't really say too much – unless it's the World Cup, anything football related goes straight over my head. The teacher and myself then headed up ourselves, partially due to everyone else having left once the match finished and partially due to it being late, checked with the students about the times they're getting up, then went off to our respective rooms too.
If you ever have a wet room (an important life lesson coming up here, so take note) make sure not to leave stuff on the floor. There's no shower tray, and if the drain doesn't seem to be working all too well either, you're going to end up with a very wet floor. Also, the soap dispenser was kinda broken in my bathroom too. Kinda, as in, I pressed the bottom to dispense the soap, and it fell open from the top.
I've been writing up the draft version of this post in my room before I head off to bed, and I have the TV on just to add some background noise. The BBC weather just came on – ah, takes me back to being in the United States. What a great time we all had. It's just gone past midnight – I should probably get off to bed now.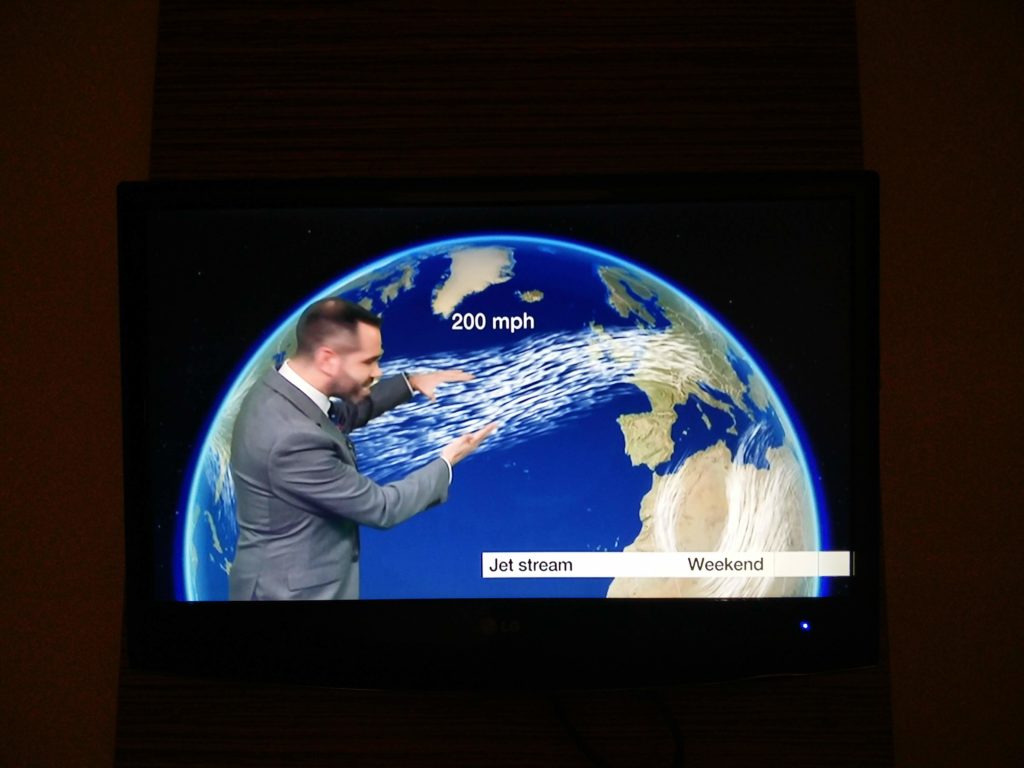 ---
7th March 2019
I had the all important job of making sure that the students were up. After knocking on their doors, one student answered straight away and was ready to go down to breakfast, another student was quite sleepy looking as he opened the door, while at the last room all I got was "we're up" shouted through the door. Well, at least they were all sort-of up! Still, getting the chance to go back up to the 7th floor, I did get a good view outside.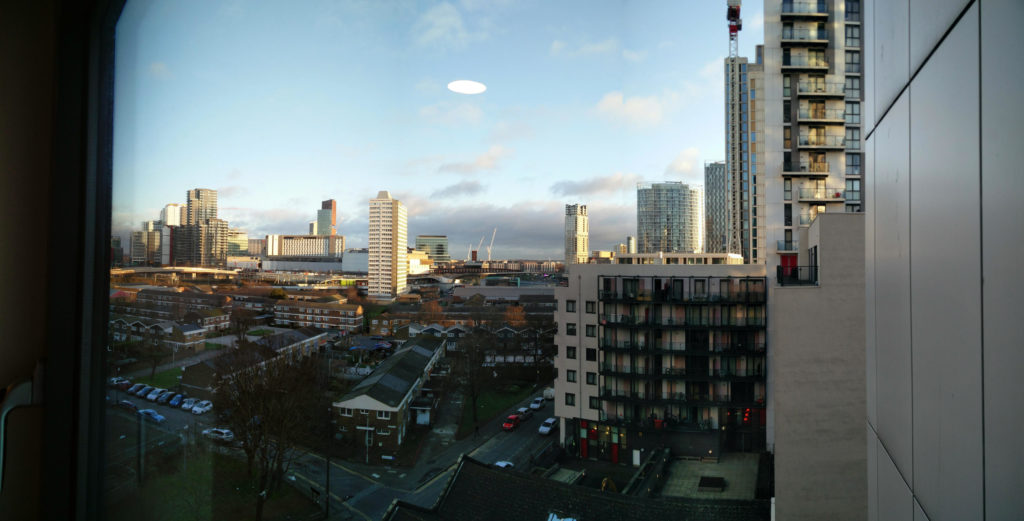 We went down for breakfast at 7:30am. So did all of the other teams. There was a bit of a queue for the food, but everyone managed to get served fairly quickly. After sitting down at a table, I had a call from my colleague saying that no-one could log in (I'm now ultra convinced that our servers miss me when I'm not there). I don't know what caused it, but after restarting the server it seemed happy again. The students finished their breakfasts and went to their rooms to finish their packing, and once the teacher and myself had finished our breakfasts, we also started to head back up to our rooms.
Before we even managed to get to the lifts, the students had returned from their rooms and came looking for us. Not because they'd finished their packing, more to ask if we had their notes they use for the competition (you're allowed them, but you have to print them off beforehand, which the team had done). It seems that the students thought the teacher had them, and vice versa. Oh. Dear. Still, they had some notes, but these were for Ubuntu. The only notes they had for Windows were stored electronically, luckily, so they asked for some paper and pens from the reception desk and headed up to their rooms to hastily scribble down as much as they could.
After packing up the remaining items from my room, and checking that I'd got everything, we'd agreed to head down to the reception area at 8:50 to check out and wait with all of the other teams for our lift to the competition venue. I was down first, waiting in the room we had breakfast in, and the computing teacher came down a minute later. After that, our students came down and waited outside (I have no idea why they didn't even try to have a look for us first) so we went out and joined them. We asked the students if they'd all handed in their room keys, and two of them went back in. The computing teacher also came out with some identification badges for us all and handed them out. They had everyone's names on, along with the team name. Well, apart from my badge. I'm not quite sure why, but in pretty much every final we've been to my name badge isn't correct. Therefore, today I'd be "Blank". Hopefully the training that I picked up at the International Spy Museum from our winners trip would come in handy…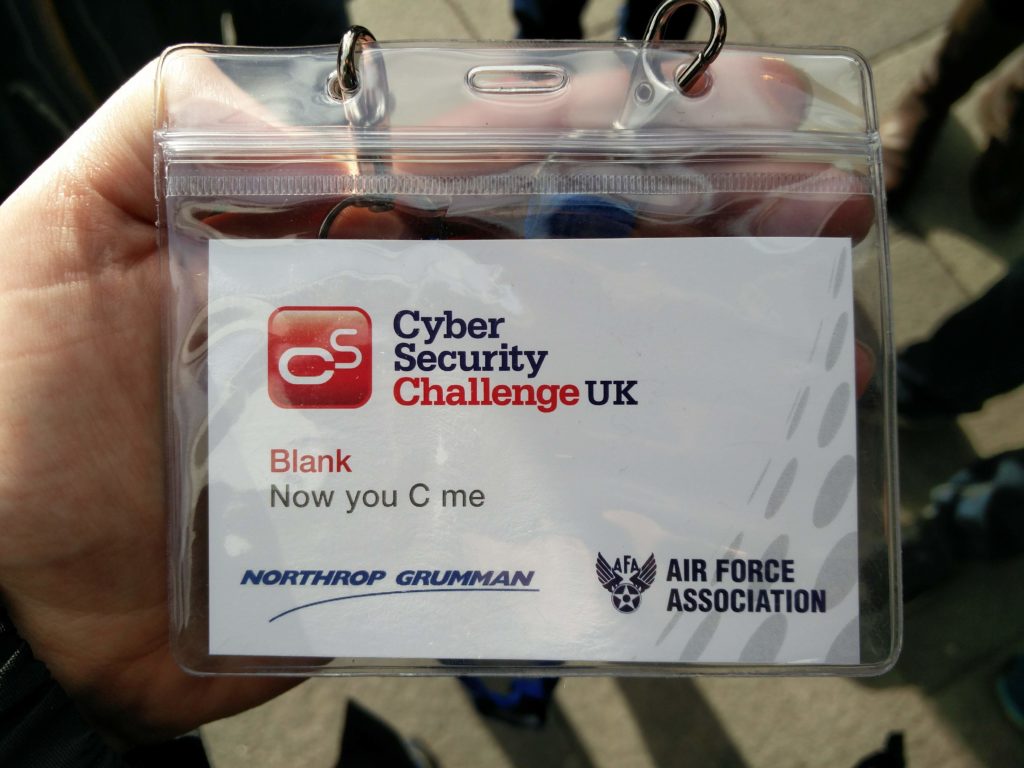 Two coaches had been put on for everyone, and we all boarded onto one or the other, handing our bags to the drivers. The drive to the Plexal building was around 10 minutes, and we went past some of the buildings that were built for the London 2012 Olympics. After arriving, everyone collected their bags and headed into the building. We were escorted through the security barriers, along a long corridor with open plan offices either side, and around a corner to a cloakroom. We were given a number that corresponded to a hanger and left our stuff.
Now, this is where politeness comes in very handy. Our computing teacher and the student who had collated our teams notes asked one of the members of staff very nicely if it would be possible for them to print off the notes as there had been some confusion over who had them. This member of staff kindly agreed, and the notes were hastily emailed off to them. While our teams waited hopefully for the printouts, we were directed through to a large "grassed" area. Diane was near the entrance to this, and we managed to have a few minutes chat with her about how we enjoyed the trip and what the students had been doing in the following months. During this chat, the member of staff who had gone off to print the notes returned, and we all said how grateful we were.
There were some large doors that were then opened, and thus showed the area where the competitors would be based. All around the walls of the room, there was wonderfully designed artwork to help get the students into the feel that they were actually at the company they were meant to be defending, Cyber Citadel, a fictional shopping mall.
A few minutes later, the introductions took place on a stage that had been put up, then the rules were given out. One that particularly entertained us was, what we can only presume was a new rule, saying that non-competitors could only view the public scoreboard that was being projected around the room, rather than on your personal device (mainly due to the load taking down the server at the last finals). Other than that, the rules had remained unchanged. We had a few minutes of hanging around before the competition would start at 10am, so we gave our last few words of encouragement, then our team took their places at the relevant table.
A countdown then began, and at 10 o'clock the competition started. Competitors were informed, when the rules were being shown, that should they run into any difficulties with any of the virtual machines they should contact the staff running the competition. Luckily they were told about this, as there were a number of hands that went up almost straight away. It turned out that this was due to virtual extensions not being enabled (or, at least that's what I overheard it being) and it took the staff quite a bit of time to fix this. While this was going on, I was talking to a number of staff from other teams, that had been to the final previous years, and we were saying about the room being designed nicely, but the students were this year facing each other rather than being in a semicircle, which may have made it a bit more difficult for them to quickly jump between machines.
Half an hour into the competition, the public scoreboard was then put up, and (due to the majority of staff following what they were told) myself and the reserve student promptly opened the website on our phones (I know, we're such rebels). The teams that were having problems still seemed to be, as the staff were still working to fix the issues. I did say that as a technical person I'd like to just go over and offer my assistance, but this would probably get me told off.
It was around this half-hour mark that last team that was having issues were finally up and running. All of the team leaders were called to meet up by the stage and they were informed that during the lunch break some teams would start back a bit earlier, just to make it fair for everyone. The staff then went back to the tables area where they were able to wait while the competition took place and started to do marking (yep, these were proper teachers alright). Myself and the reserve student sat on the far edge of the stage instead, as it was closer to the competition area and we had a good view of our team. However, our team seemed to be having a few problems too, as they had to call over the staff running the competition to have a look at one of their machines. During this time, Gillian (a member of staff from Northrop Grumman) was walking around, and I caught her briefly to say a thank you for all of the work that she had put in to organise our winners trip visit. We probably weren't the easiest group to arrange things for, due to moving the dates we'd be going from the Summer to Autumn, and asking for another member of school staff to come along, but that the trip was very enjoyable, informative and a fantastic experience for us all.
A few minutes later, the event photographers came to nearby where we were sitting on the stage, to set up some camera stuff, so we shuffled closer to the competition area. A student from another team came over to speak to us, and it turned out that it was their first year competing. We asked each other a few questions about how we'd found the competition, but were then told by a member of staff if we'd be able to move from the stage area so that we didn't distract the competitors. Oops.
The reserve student and myself went for a walk around the building we were in. It was quite a large place with numerous offices of varying sizes, and on most of the lights inside the building there were loading bars on then. No, we couldn't figure out why either, apart from it looking nice. After getting to the end of the building, we turned back around and headed over to the tables where the team leaders were waiting.
The computing teacher had been marking a few mock exam papers that had recently been set to a Year 10 group, and although the Year 11 students in our team had done the paper recently and scored highly in it, let's just say that these students didn't. She showed us a few of the examples of some… interesting… answers. One had an "and" and a "not" logic gate in series, with the question asking for them to be labelled. The student whose paper this was had labelled them as "logic gate 1" and "logic gate 2". Another answer that we were shown was a simple binary to decimal conversion, where instead of using base 2 (1, 2, 4, 8, 16, 32) the student in question had instead labelled their place value columns (1, 11, 22, 33, 44, 32), and after placing the relevant 1's and 0's into the columns, proceeded to divide this decimal answer by 2 before arriving at their final value. Yes, these students had been taught this. Yes, they had been taught this recently. Yes, the staff sitting by us on the table also laughed as well as us when they'd realised how badly the students had done. From then, we talked between ourselves and the staff nearby, and then it was lunchtime. Those two hours had gone by really quickly.
Our team came over and we managed to get to hear how they felt they were doing, along with what images were available. There was a Windows 10, Windows Server 2016, Ubuntu 14.04 and Debian 9. The Debian image seemed to be causing the most amount of problems, as they'd only got 5 points in the whole 2 hours, and the operating system would just crash when they tried to open the read me file. We couldn't find out if they were stuck on any problems as we were told during the rules section of the introduction that no-one could discuss the issues outside of the competition area. As with previous finals, no team names were shown on the scoreboard, and a change this year was that you couldn't view the graphs of the leading team either. However, the students seemed confident that they were near the top of the scoreboard.
Lunch had been provided for us, and there were some power talks going on that the students went to watch. One of these talks was about penetration testing a company, the steps that need to be done first to make it legal (basically, ask permission from management) then some photos showing how far the speaker had managed to get into the building and what they were able to access in the company. The second speaker was a person who we'd talked to during the CyberCenturion III competition finals, and their journey with working for Northrop Grumman and some of the exciting projects that they'd been working on in the last 2 years. During these talks, the teams who had problems earlier in the competition were called for and entered the competition space to make up the time. Once lunch finished, we wished our students the best of luck and they headed back to the competition.
The second half of the competition seemed to take a while, as points were gained slowly. During this time, with an hour and a half left of the competition, the computing teacher was asked if she'd be happy to be interviewed and say a few words to the event videotographers (it's a word) that may be used in the publicity materials for advertising next years competition. After some persuading by myself and the reserve student, she agreed to do so.
It was fifty minutes after the competition resumed before a team managed to get past 200 points. One of the teams was close to it at the end of the lunch break, but they somehow lost points and had to gain them back. The gap at the top would go close together then open up massively, sometimes with a 20 point lead for the top team. It just goes to show how difficult this round was that it was taking so long for teams to gain points.
With an hour to go, an additional image was released, Ubuntu 16.04, bringing the total up to 5. We weren't sure if our team was going to cut their losses on the Debian image, or just persevere on with it. By this time, a second team had also crossed over to gain 200 points, making a gap of nearly twenty points between the third place team.
We're not entirely sure what happened at the 30 minute mark, but at one point there was one student monitoring 2 computers, whole the other 3 members of our team were all on the other side of the table looking at one image. Either they were comparing items fixed in the other images with those that could potentially be fixed on this image, or they'd done something daft which required a few of them to fix it. Points-wise though, the top three teams had nearly caught each other up, with a difference of 6 points between them. This had suddenly become a closely fought competition.
At the 20 and 10 minute marks there was an announcement to all of the teams telling them how much time was left, while with 15 minutes remaining of the competition the public scoreboard was turned off. The last that everyone knew was there was now a 25 point gap between the top three teams. However, there was still everything to play for!
Once the remaining time had reached 5 minutes, the announcement of how much time was left was announced on each minute, and for the last 60 seconds, a "24 style" countdown timer was used, which features an explosion at the end (and made a number of the competitors jump in surprise). The CyberCenturion V final competition was over.
The students were asked to wait by their computers before they were dismissed, then our team came over to us. We asked the students what they thought their overall total was, and it was somewhere close to the 300 mark (meaning they'd come near the top end of the scoreboard). They also said that at one point they were the team with the 20 point lead, assuming they'd added up the collective scores from the images correctly, which we were certainly surprised about. We praised the students for the amount of hard work they'd done, and said that no matter what, they'd done fantastically to get into the finals for the 4th year running.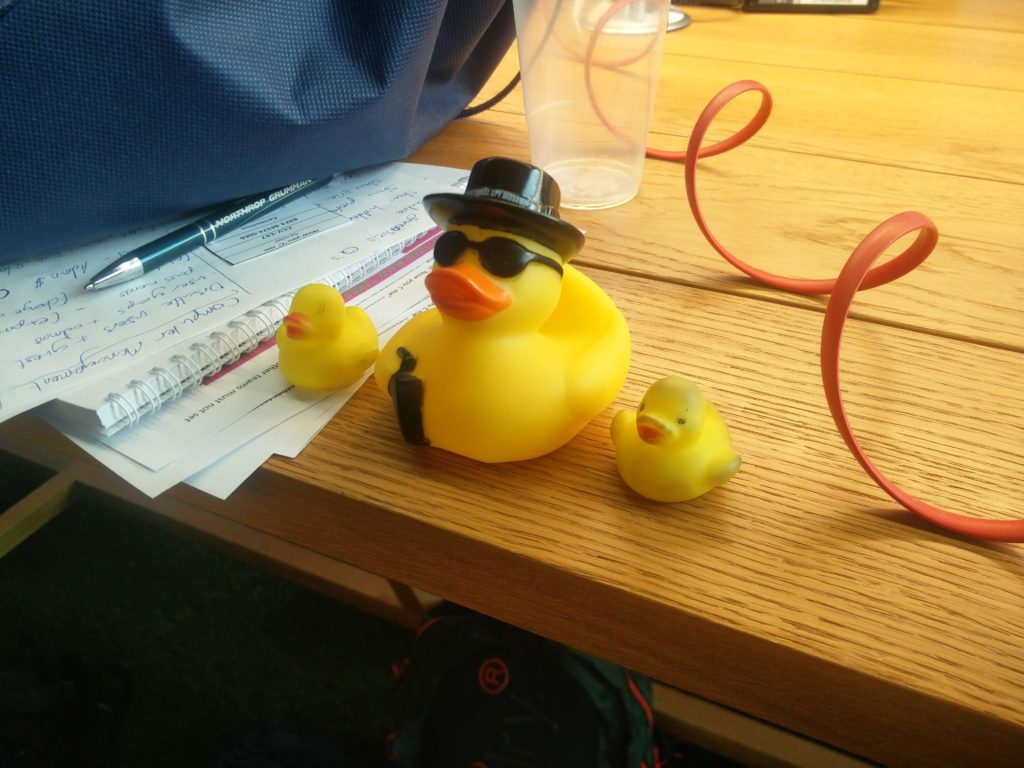 There were two more talks before the medals were handed out, one about using tools to see what information can be gleaned from public websites (DIRB) and how you can fool these tools by sending back different HTTP status headers and content. The other talk was about how they'd progressed from a career in the army to taking up various hacking challenges in university. At the end of this talk, everyone signed into Kahoot to play a round to see who knew the most about cyber security, but I came nowhere near the top (although my phone did loose connection for 2 questions, so that wiped me out completely). Once these talks had finished, we all headed back up to hear the results of the competition and who the winners would be this year.
There were a few speeches about how well everyone had done to get into the finals, and then the awards were handed out. First up were the diamond shaped trophies that we'd picked up last year for being the best boys team. We knew we wouldn't get one this year as we came 3rd in the competition rounds, and applauded the team's who did pick up their awards. As this year was the first time that junior groups had their own specific rounds, each of these three teams were called up and presented with a trophy, and more clapping followed suit. Then it was time for the part everyone had been waiting for, who'd won the competition overall?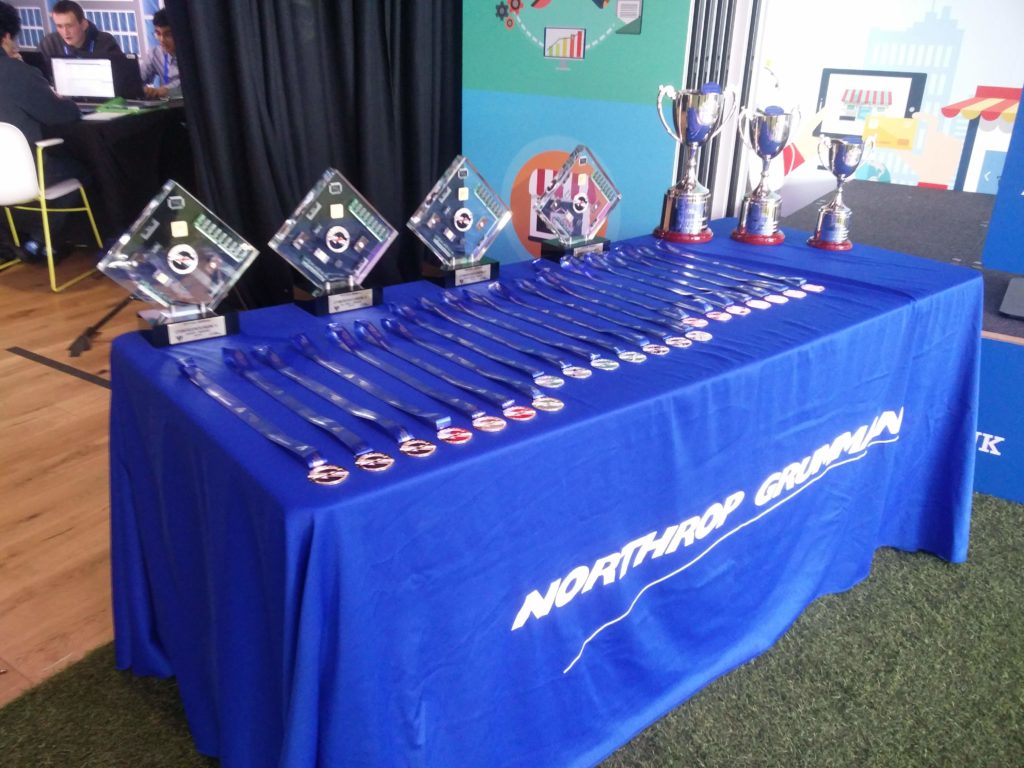 The medals were collected, and third place team was called out. Not us. Then second place team was called out. Again, not us. Surely we hadn't come top again (as it would be awkward to go up and collect the top team prize again). But no, it wasn't our team name either. We all had a sigh of relief, then confusion. Surely our team didn't drop that many points at the end and come 4th? Still, well done to the winners – not only did they get the award of being the best team, but also had the opportunity to go to the United States like we did!
After all of the presentations had finished, everyone was standing around talking about how they felt the competition had gone. I decided to go and find out what our total score was in the end, mainly due to me blaming the students inability to add up! However, there was already a team there, so I queued up to wait my turn. However, this team of juniors seemed to be having quite a long discussion about the points the students wrote down versus what they'd been told. Those of us queueing up were asked to offer the team some privacy, so we took a few steps back.
There's one thing I can say about the CyberCenturion competition. All of the students from all of the schools are super friendly. Sure they've all been jostling for a place during the competition rounds, then battling hard to come top in the final, but once that's all over they'll just happily come over and talk to you. It helps that most of the students are on a Discord server, so they indirectly know each other anyway. So, why am I saying this? Well, while I was waiting, another team (Why2K – go check them out. After you've finished here!) came over to where I was standing and started to say how their score was 303 according to their scoring reports, meaning they should have come quite high, but like us, they'd not come where they expected to have. This then led to quite a lot of discussion about how quite a few people didn't think the scoring was quite right, and during this time the members of our team came over to see what was happening. This was good, as it allowed them all to put names to faces.
This other team that we are talking to, well, let's just say that they were passionate about finding how they'd totalled their score so wildly from what had been the outcome, and said that had they totalled it incorrectly then they'd happily take the result published, but when they seem to have dropped around 100 points from where they were last, something certainly didn't seem quite right.
The team who were querying their score finally finished, so Why2K queue jumped past me headed up to ask what had happened to their score. After being told what their final score was, I'm going to say that they were powerful in explaining how the totals from their scoring reports was wildly different from the value they'd just been told. Our team was standing nearby, and again we were asked to offer Why2K some privacy. They came away a few minutes later, while the members of staff running the competition conferred over why so many people were querying their final scores.
The scoring system for the CyberCenturion competition works by teams putting in unique identifiers, so that it knows which team is scoring points for each issue fixed. At the start of the final round the teams had their unique identifiers printed out and put on their respective tables ready for them to use when the competition started. As luck would have it, these sheets of paper with the team unique identifiers were still lying on the tables. Now, these unique identifiers had stayed the same for each team during all of the competition rounds, but it seems that the values had been changed for the final. The names of the team's were correct, but the identifiers didn't match what the team's had. This was unusual, as in previous finals the unique identifiers had remained the same.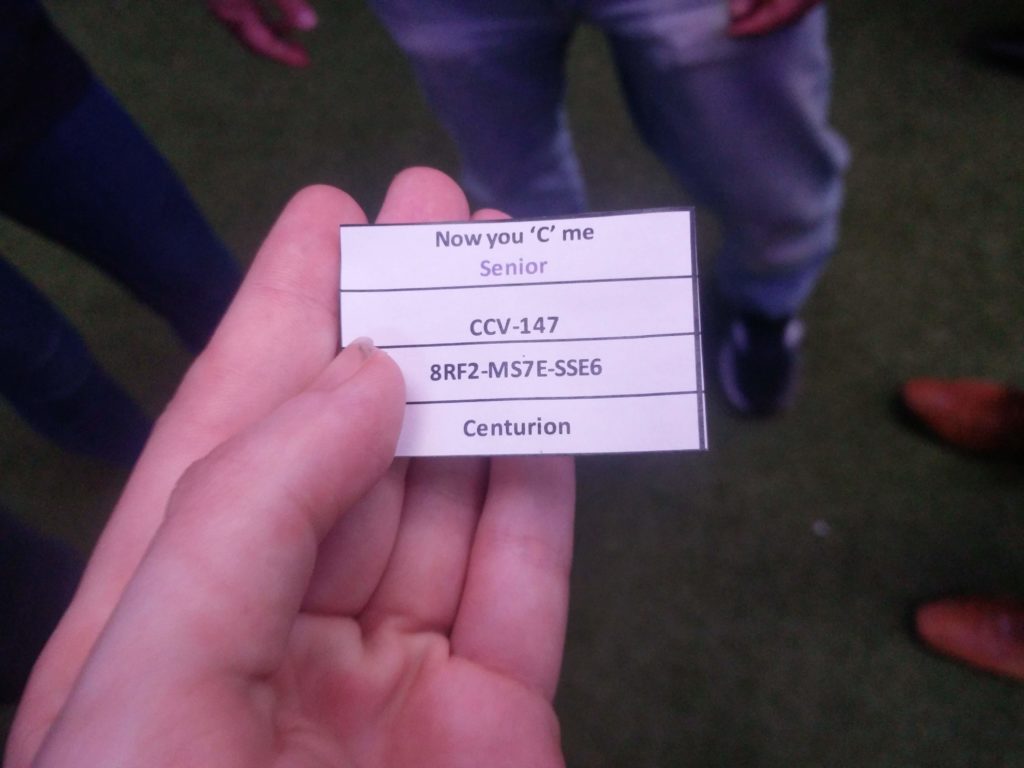 After looking at the values for the unique identifiers with what teams had during the competition rounds (thank goodness for email, as the teams could check what they'd been using), it seemed that the team that we were talking to may have actually been the ones who won. Now, I've got nothing against them, they seemed like really deserving students, but I suddenly didn't like them as much. When they realised that they may have potentially been the winners, they became very excited and demanded asked nicely the staff running the competition what had happened. Those of us near the staff running the competition were called forwards (we though at first they only meant Why2K, but they instead meant all of us) and the staff explained that the unique identifiers don't change. They also explained that it was the team's responsibilities to make sure that they'd put it in correctly and to make sure that there was only one instance of the image running, which there had been. At this point, the room that the competition had been taking place in was starting to be packed up, so we asked if we could continue the discussion outside the room, which the staff were happy to do.
Once everyone had gone out, and discussed that it seems to have been a genuine mistake – the numbers and team names had been mixed up (we've all screwed up sorting rows in Excel at least once) and not some intention to deliberately let certain teams win – the staff turned up. They started to continue explaining what they had in the other room, but the students were saying that the unique identifiers had been swapped around. The team leaders were then asked to come over to explain what had happened, but as they weren't aware of what had been found out, the team's quickly brought them up to speed.
Once the team leaders had spoken to the staff about what had happened, they decided to go off and investigate what may have caused this. This then left time for the team's to talk between themselves, and the team leaders were now aware of what all the fuss was about too.
After about 10 minutes of waiting, one of the AFA staff (the people who set up the images and scoring system) came out to say that the team's can wait if they wanted to, but they'd be going on the AFA's timescales, not ours, as there was quite a bit of data that needed to be analysed to see what may have exactly happened. Now, we'd have loved to have stayed, but there was one slightly pressing matter, which was the train we needed to catch would be leaving London Euston station at 7. We had to get on a shuttle bus and 2 subway trains before getting there. Oh, and it just before 6pm – prime rush hour time. This was going to be tight!
We said goodbye to some of the teams of students that we'd been taking to, and then headed out of the building. Luckily there was a shuttle bus that takes you to the station, but we'd just missed one. However, the next one pulled in almost straight away. I say almost, as one of our students was standing quite close to the kerb, so the bus could not move closer without hitting him with the wing mirror. After our team asked the student to move away from the kerb, the bus was able to pull in. The driver asked us if it was our first time in London, and I lied and said "Yes" (it's good to play tourist) so that he didn't say anything else. This bus was full, and would take a couple of minutes to get to the drop-off point. Quite a bit of the discussion on the bus was about the mistake that had happened, and how it was a shame that we'd be missing out finding what was going to be said (I joked that had I brought my credit card I'd have happily stayed behind and caught another train). We also joked that should we miss our train, would we be able to pop back and see what was going on.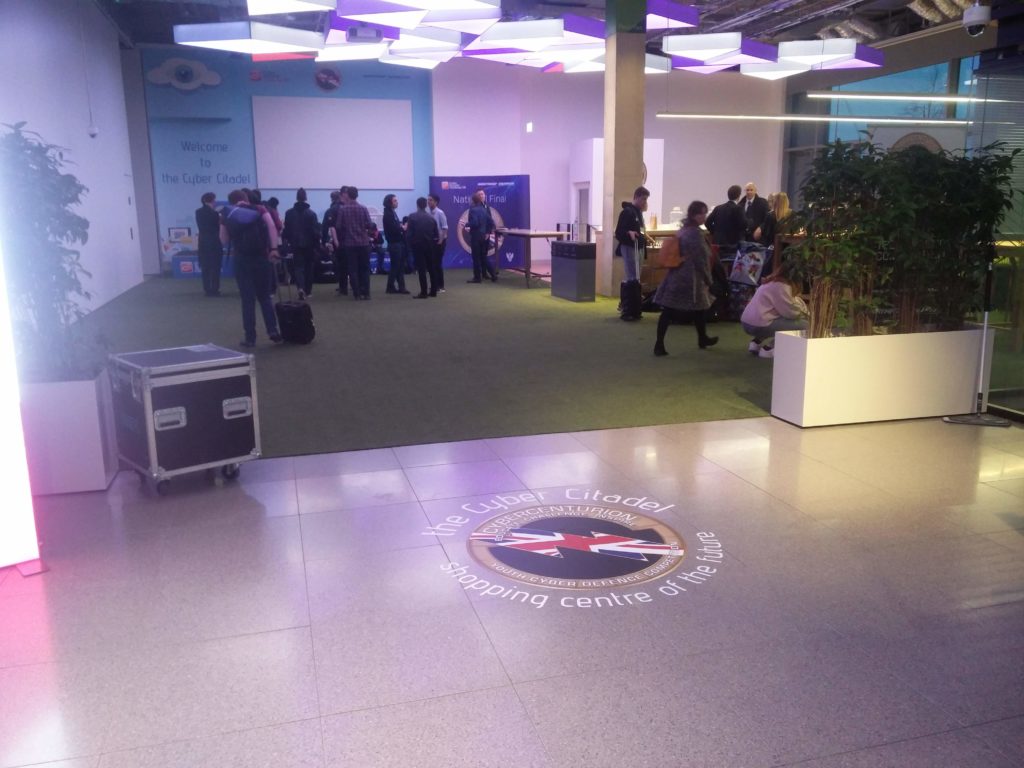 We pulled up at Stratford station, and it was at this point I realised that we had the tube to catch (I know what you're going to say – above I said "We had to get on … 2 subway trains – that's only been added in so the blog post works). I did wonder why there was such a rush for us to get to the station. It wasn't just me, as another student also commented about this too. Unfortunately, we had to purchase tickets, but there wasn't a queue so we were able to do this easily. From the ticket machines, it was a case of walking quickly to the platform as it was quite a long distance away from the station entrance. We boarded the last carriage of the train, as it was closest to the stairs, and the doors closed a few seconds later. This carriage wasn't too full, and after a few stations we all managed to get some seats. The discussion of topic was still the mistake that had happened (first time it has) and what was going to be happening to the team's that were announced as the winners.
This tube journey was quite long, and to pass time we also got talking about this blog (not me trying to advertise again, honest). Actually, this trip the students were asking me quite frequently if the photo that I was taking was going to be ending up on this post, and that one of the phrases they used quite a lot when we were in the United States was "where's Jon?". I don't wonder off, just pause to take a lot of photos. I also said that I was quite pleased that something had happened this trip, as I didn't want it to be a carbon copy of the finals from last year. That would have made a boring read for you, dear reader, so this certainly added some drama and excitement for me to write about.
It was mentioned about how I'd describe the team members that we'd been speaking to – well, strong, confident, clever, smart, and keen to stand firm in when you believed you'd been wronged. Right, I hope that's kept them happy (I've seen what they're like when something doesn't go their way!), and should those students also be reading this post, can I just say you're going to have a fantastic time in Washington and you thoroughly deserve it. Don't read any of my blog posts about the trip (despite me advertising it heavily) as you'll only spoil it. Unless you don't go to the same places as us, in which case, go crazy and read them. However, do take lots of notes, write up blog posts and take lots of photos. As I've said to our students numerous times, I write these posts so that in a few years time they'll have something to look back on a remember the details of things they'd forgotten about. Anyway, I've digressed massively. Where were we?
So, the tube train was starting to become quite crowded with the end of the rush hour traffic, and we were still 3 stops away from where we needed to get off. We also had 20 minutes left, so it was going to be close. We got off at Oxford Circus and headed off to the next tube that we needed to catch. The problem was that this one was very full, and I didn't think that I'd be able to get on. I just about squeezed in, the doors closed, then an announcement was made that overground trains from London Euston were delayed. Oh, that wasn't good.
After arriving at Euston station (with time to spare may I add?) we headed up onto the concourse from the underground and saw two things. A humorous crowd of people standing around, and the display boards mostly empty. An announcement was made to say that all trains were delayed due to a trespassing incident and to keep waiting for any further announcements. We had no idea how long this may have taken, so some of our team went off to get drinks and food. I also apologised to everyone for hoping something different happened this year for me to blog about it, but not this big or different!
Well, it turns out it was a while. The trains were running late by about an hour, and only one would be shown on the departures board at once, then disappear again. We did edge ourselves closer to the display screens over time, and eventually our train turned up on them. Except there was no platform number given. For a very long time.
Eventually there was a train to Crewe that was showing as departing soon, (it had a scheduled departure time after our booked train, but our train was delayed), so we headed down to the platform to see if we could get on with our tickets, and the stewards there said yes. We went down the platform and jumped onto the last first class carriage. This was my first experience of first class travel, but even then, it was just in the vestibule area. We shouldn't really have been there, but with the amount of other people on the train, we couldn't have moved if we'd have wanted too.
The train left on time but crept for quite a while until we were far from the station. Our team were still taking about the mistake that had happened and what we thought would be done next. There were two other people in the vestibule area we were standing in, and we got talking to them as they were asking us about what we were going on about. Additionally, a member of the buffet staff came to where we were waiting too, but as they couldn't move down then train either, they also got chatting to us and asking about what we'd been up to. This was quite an enjoyable experience. People rarely talk on trains, so this was fairly fantastic to have happened. One of the other passengers asked the member of staff what trespassing had occurred, and it turned out that someone was running from the police, decided to climb onto the roof of the train to escape but was hit the overhead power lines. At this point they were injured, but later on we heard rumours that they'd been fatality injured.
After stopping at Milton Keynes, the majority of passengers got off, so we said bye to the people we were speaking to and went off to find some seats. We found some in the next carriage along, and continued our conversation about everything that had been going on. We also discussed how we thought we may hopefully end up in second or third place, and how the teams that had been announced as the winners may be feeling. I know that in the debrief post of our winners trip that I said it'd be nice to have been crowned as winners again, but there was something noble that came out of a group consensus, which I think was really nice. Our team said that they were happy with not winning. They came to the finals again, and proved that they were still able to (hopefully) get near the top. They were pleased that the team won it who we think have done, and had we won again, they would have asked if it would be possible for the second place team to have the opportunity to go on the trip instead. That right there is what I would say sums up our students in our team. A group of hardworking students who deserve to get into the finals to show that they're still a force to be reckoned with, have lots of fun getting there, but kind enough to let others have the opportunity to do what we had done. Honestly, that just makes me proud of them. Could you ask for more?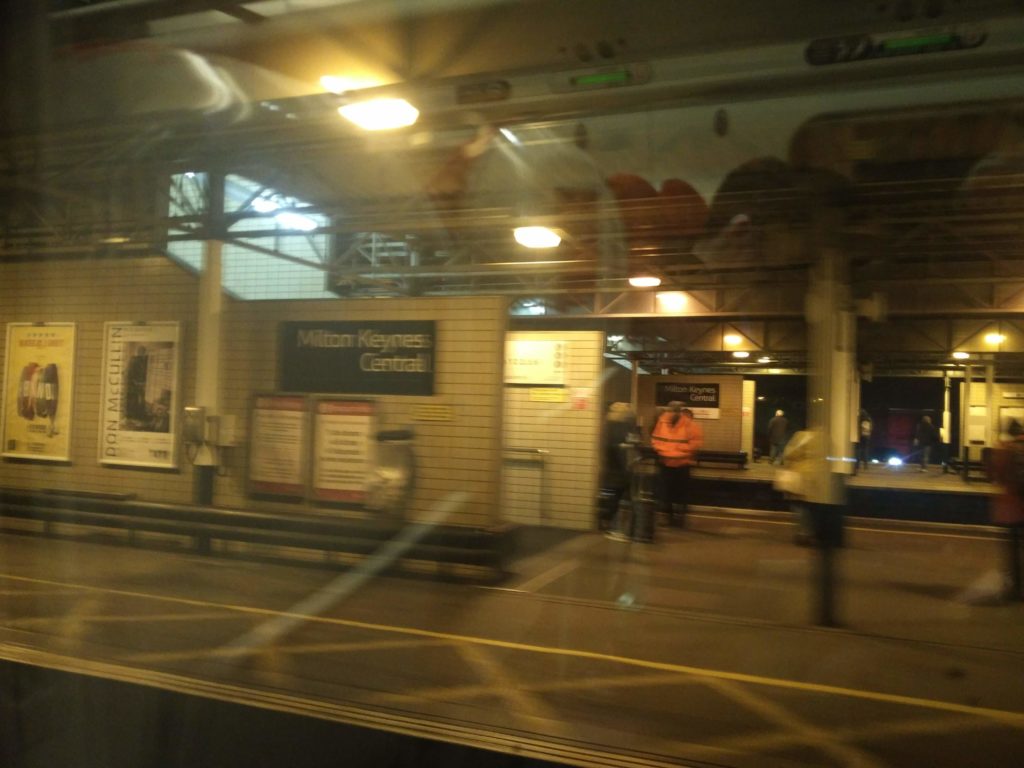 The train was nearing Birmingham International now, and the computing teacher has received an email. It says that there had been a mix up with the scores, but credit to Northrop Grumman that they'd honour the winners trip for the team that had been announced as winners and any other outcome. That's probably one of the most costly mistakes that I'll ever see personally. Anyway, the updated results are going to be published in 24 hours, so until then, it's just a case of sit and wait.
As we'd played a game of Kahoot with one of the talks, it was decided that we may as well play another one to pass the time. The problem was that no-one was sure of a topic, so I said bananas (hey – don't say that's because I am!) and we went with that. Also, we were moving so phone signals dropped out frequently, so only myself and another student had managed to connect, and the phone that had the questions showing was a small screen on the other side of the carriage so we couldn't read them. Still, we somehow managed with another student reading out the different answers available and the two of us playing against each other. Let's just say that when the scores were revealed, I may not necessarily have come in first place…
The train pulled into Birmingham New Street at 10:45. We expressed our thanks to the students, said goodnight, and all made our separate ways home.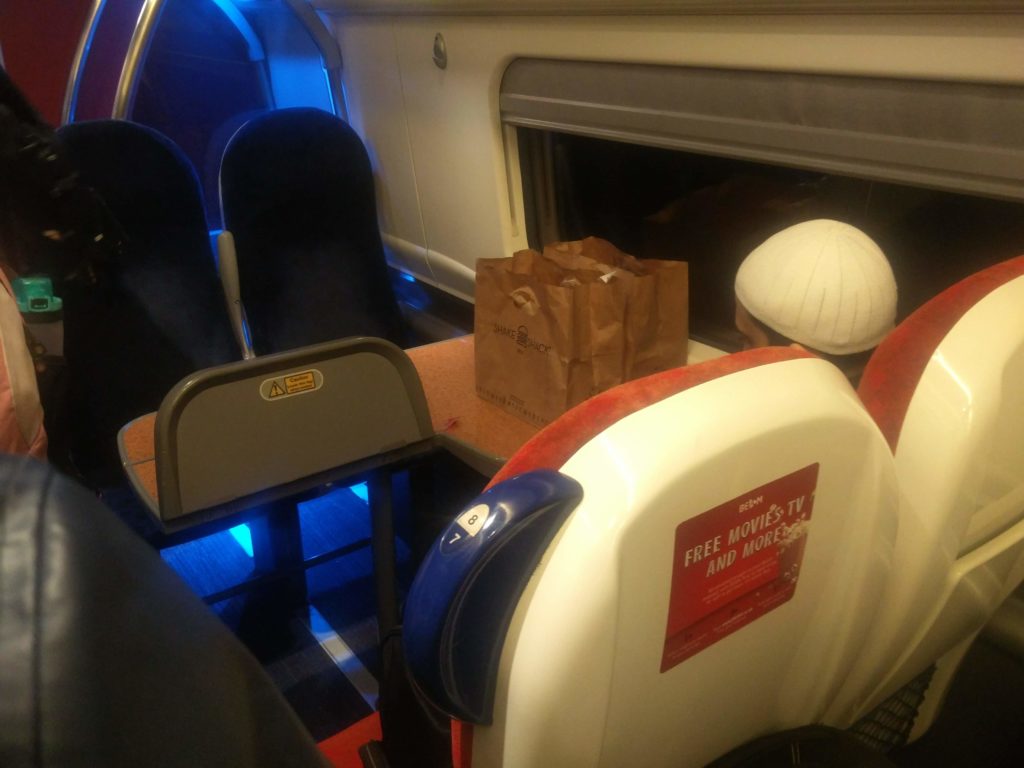 It's been a great final, and its a shame that another one of our students will not be able to carry on next year (he's getting old, see (and he'll hate me for saying that!)) but there may be an opportunity for him to come back and coach one afternoon a week. That'll be nice if it can go ahead, as someone needs to pass on the knowledge. Also, it seems that we may be getting a girls team, or possibly a mixed team, so it'll be interesting to see if that happens and how well they may do. But, that's next year. First let's see what the updated team places are going to be…
---
Update: 12th March 2019
Fourth. With a score of 266. That's the official final position our team came in. It took a few days for us to receive the email with confirmation. Surprising, to say the least, as the students were convinced they would be a lot higher up when they added up their scores. I, on the other hand, think they should have done those maths papers on the train journey down after all…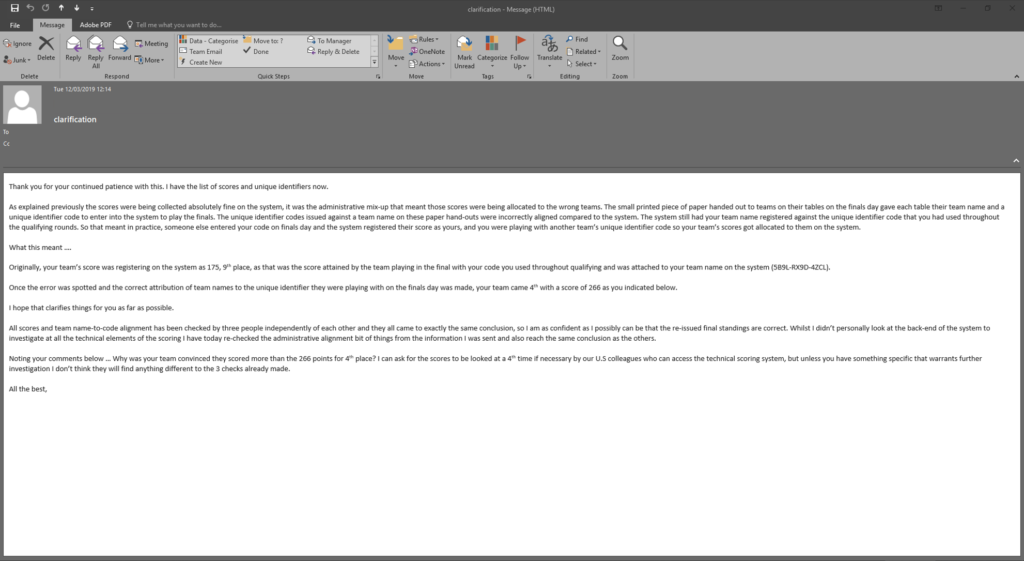 CyberCenturion VI – here we come. That is, once our remaining team members figure out who else they can get to join them!
---
Update: 2nd May 2019
There was a parents evening tonight. I had to set up the hall projectors to display a photo roll so the parents had something to look at while waiting their turn with the teachers. Actually, that's not important to know. What is important, though, is that on my way back from the hall I came across the computing teacher. And what is importanter than that is that she was on the phone. Even importanter-er is that the call was from Cyber Security Challenge, the people who help run the CyberCenturion competition. But the most importanter-er-est thing to know is that it was regarding our final position from the competition.
Not long after finding out our (triple-checked) final position, our team wanted to check that they were definitely in fourth place. They'd been in contact with some of the other teams, and the score that our team thought they had appeared to place them in a higher position. The score they had calculated had a minimum of 284 points, and not 266, so they sent off an email to ask exactly how it could have been possible for them to either have written down the scores incorrectly, or, how they could have lost around 20 points in the last fifteen minutes.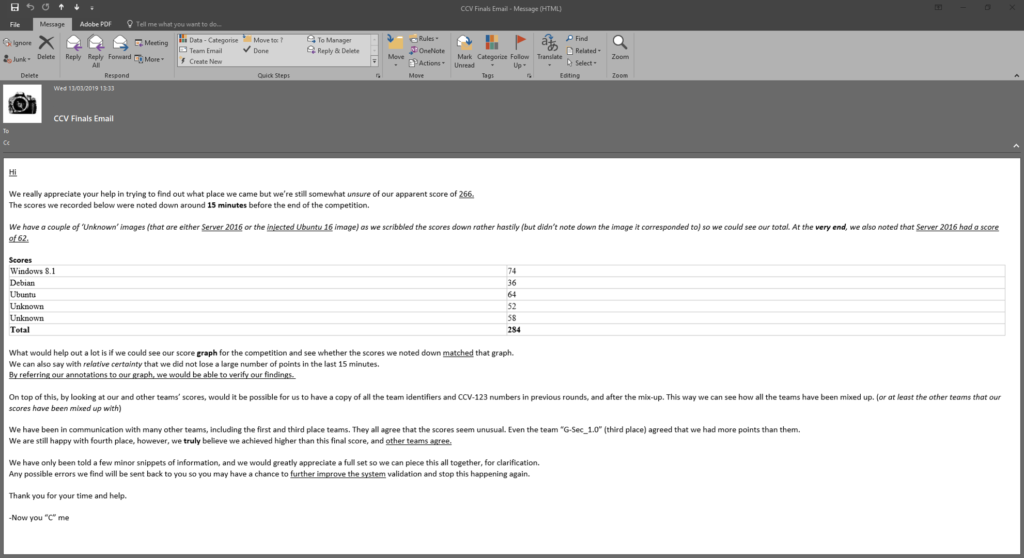 The computing teacher came off the phone. Although she'd mouthed the position to me when she was still on the phone, I waited to actually hear it to make sure. We'd come second. As it was also the end of the school day, we managed to catch a few of the students in the team as they started to make their way home. They were certainly pleased to hear what the updated position was for the team, and finally felt that it was both what they had been waiting for and deserved. After all, second place was where they were aiming for.
Around 20 past 6 we received an email, definitely confirming that (after a quintuple-checked result) our team were in second place. It appeared that – like our team – a few other teams still weren't quite sure about the positions they were told they'd ended up in on the 12th March. The data was sent off to be independently audited and validated by a team at the University of Texas, San Antonio, who created the competition system. Additionally in the email, it's been mentioned that Northrop Grumman are offering a £100 Amazon gift voucher to all students as a way of apology, along with a printed team photo, a certificate of attendance and to re-present the awards to this year's winning CyberCenturions.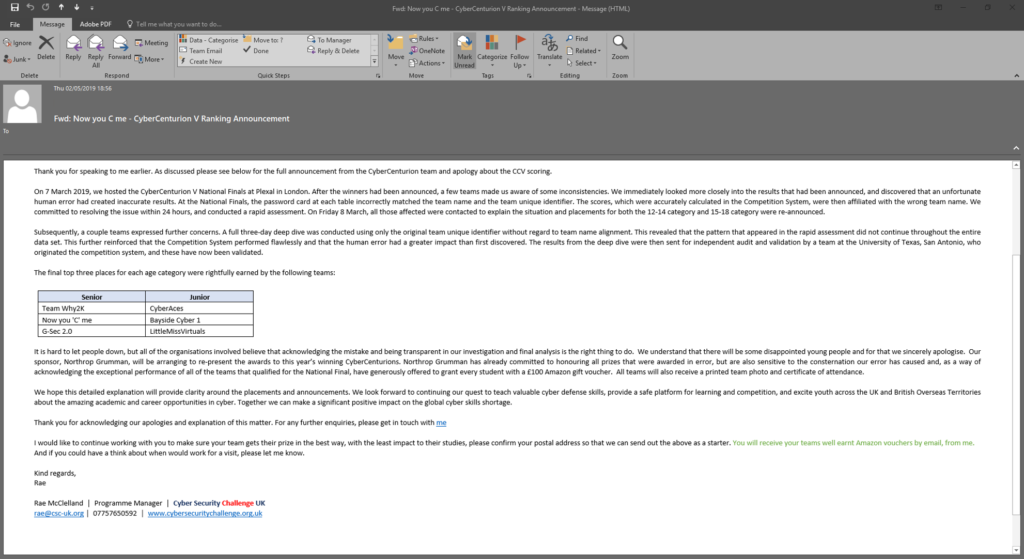 So, what can we take away from all of this? Well, first and foremost, make sure that you select all columns on a spreadsheet before sorting them. Secondly, Northrop Grumman are generous for offering to uphold the first-place prizes for the incorrectly announced and actual winning teams, along with offering quite a few things as compensation – I hope they are thanked for doing all of this (we thought they spent a lot sending our team to the United States – this year they're undoubtedly spending lots more!). Thirdly, perseverance pays off in the end.
Finally, our team came first in the CyberCenturion IV competition. The best position without looking greedy for this competition was second. I'm going to take this as our team is still the best in the UK. Cumulatively, at least.