Introduction
Wow. What a fantastic and amazing opportunity we'd all had. Being able to go to the United States and hear from people who are working at very high levels in their respectable fields was an absolute honour. Everything that we'd done over the last few days had been inspirational to us all, allowing us to gain an insight into how cyber security is a diverse and far reaching sector. It has certainly set the students up with some of the skills and information needed to help them go far in this field should they wish.
I'd just like to finish up these posts of our CyberCenturion IV Winners Trip with a few things that have happened since we've arrived back in the UK, and to help round off the trip.
Thank You!
I would like to pass on my formal thanks to Diane Miller and all of the Northrop Grumman employees who helped with our trip in any way, from planning and organising the trip through, to those who gave up their time to speak to us. I sent the following message in a card to Diane, but so that it's available for anyone else to read, I'm posting it here too:
Dear Diane,

I would like to thank yourself and everyone else at Northrop Grumman who helped to provide an amazing and fantastic experience for myself and the other members of our CyberCenturion team.

Please also pass on my thanks to all staff who gave up their time to speak with us, as it was clearly visible that they enjoyed working together and were passionate about what they do. We found it to be a very "family like" atmosphere.

Everyone who went on the trip has been looking into different careers and tools that were mentioned during the presentations that we went to, to help them find what their next steps are going to be.

I hope to see you and the staff from the CyberCenturion competition again at the final for this year's competition.

Thank you
Jonathan
Visited Locations
I know that I've mentioned a number of places that we've visited, but so that you can actually see where we did go, here's a map of the locations we went to. The locations are those that my phone logged, so there may be a few times where it's massively out should I have lost signal.
Photo Album
Now, I know that you've already rolled your eyes as soon as you saw that heading, but hear me out on this one, OK? I was quite selective on what photos I used in my blog posts of the trip, mostly due to me having so many – oh, you noticed? However, should you wish to see all that I took on the trip, feel free to head on over and see what other things we saw that I didn't bother to show.
Participating Again
I had an email from the computing teacher about running a practice round for new students so that they can experience CyberCenturion to see if they will enjoy participating in it. I said that I'm more than happy to, as it'll be a chance for more people to have a go. Later on in the day one of the older students who came on the trip said that he was going to take part again too, as the other teammates had persuaded him to join again, even though he wanted to finish on a high.
Now we have a moral dilemma. Should we get some teams into the final of CyberCenturion V, do they not win so that another team gets to be crowned as winners (the honourable option, as we've shown we can still get to the finals, plus we'll get to say "hi" to the people we met on the trip), or does the team perform really hard and try to win again, claiming the first team to win two years in a row and show they're deserving of the title (the hopeful option, but we'll look greedy by winning twice)? Only time will tell…
Queen's Visit
Yep, you read that heading correctly. As we were driving back to our hotel from our visit to the British Embassy, Queen Elizabeth II appeared in a car right next to us. I don't know whether the Embassy staff had given her a call to say she'd just missed us, but what I do know is that it was mightily nice of her to pop along and give us a wave as she passed by.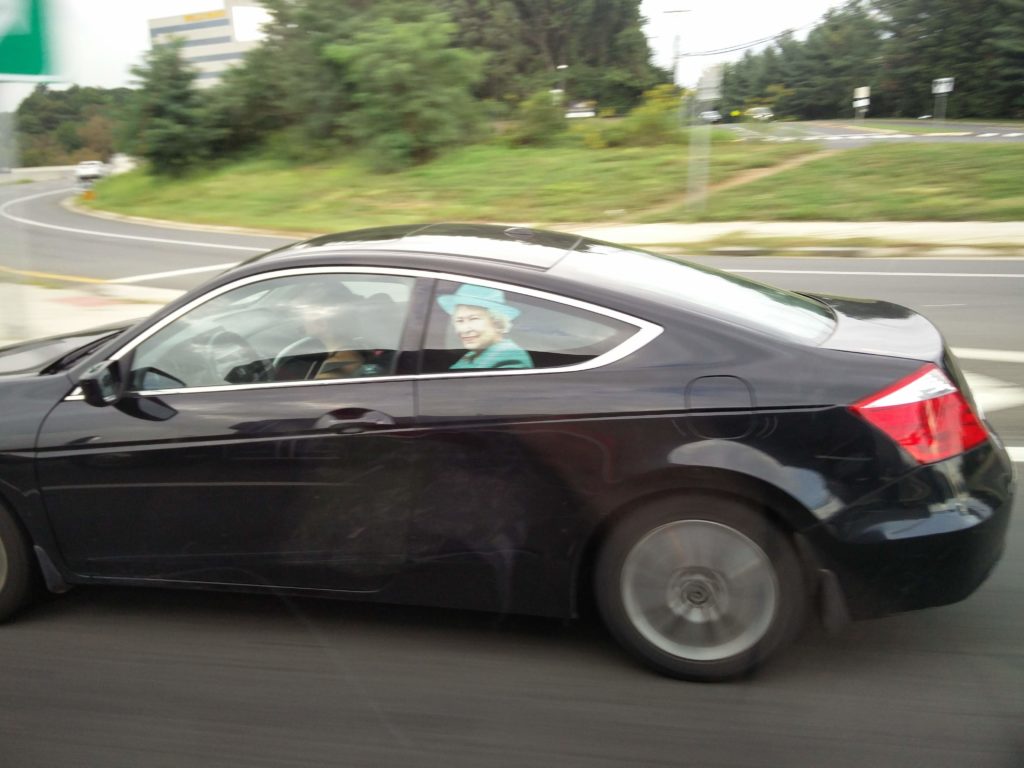 What? It counts.
Arm Infection
I'm not exactly sure where I picked this us from, but what I do know is that it was an unexpected gift from the United States. Well, that, and it was super itchy, and after speaking to the nurse in school it was most likely ringworm. You don't want to get this, trust me.
It was once I got home that I noticed a very faint circle appear on my arm, and it disappeared a day later. Then on the Monday in work my arm became really itchy, and luckily I had a look before scratching, as I noticed it had become very inflamed. That evening I popped into a NHS walk-in centre and got some cream.
[Warning: Mildly-infectious content ahead (although you shouldn't be able to catch it from an image). If you're of a sensitive nature, scroll past the images quickly. Unless you've already scrolled too far to see this warning and have already seen the images. If so, it's your fault for scrolling too far. You've been warned!]
Update, early December 2018: It's taken many months to get rid of the infection. The red ring disappeared after about a week of using the cream, but I kept having lumps appear for a few hours at a time before they disappeared again. Seriously, if anyone ever says "would you like some ringworm?" (and why would they?) just politely decline and get on with your day. Your future self will thank you.
[Warning: Ugly-looking photos of my arm ahead. If you're of a sensitive nature, scroll past the images quickly.]
Microwave Fire
When we visited the National Electronics Museum, we learnt that the microwave oven was originally going to be called a death ray box, as microwaves were envisioned to be capable of setting fire to enemy aircraft when it was directed towards them. The death ray box that we kept at home for 27 years tried out it's death-ness on me. I was recovering from my jet lag and for tea I decided to have a jacket potato and lasagne (microwavable, I didn't feel like doing any actual cooking). I microwaved the potato for a few minutes to soften it, then the lasagne, then put the potato back into the microwave to let it finish cooking while I started eating the lasagne.
Suddenly, the smoke alarm was going off and I ran into the kitchen, only to find it filled with smoke. I turned off the microwave, grabbed my keys and opened the front door to let out the smoke. After numerous minutes fanning the alarm and getting rid of smoke, did I open the microwave door (only after I'd seen the smoke stop coming out of it – official advice, actually) to find the smouldering remains of my potato. To stop the potato sticking to the rotating tray, I put it on some kitchen roll (I'd always done it like this), but apparently unless the kitchen roll is marked microwave safe, it has a chance of containing impurities. Still, that was a lesson learnt, and we now have a new death ray box, which I'm calling version 2.0 (now with upgraded killing powers™).
Final Notes
Actually, I think I'll stop here. I don't want some of my favourite phrases to be attributed to me (injuries not compatible with life, author of their own misfortune, death by misadventure and [you'd] stop being biology and start being physics). If I carry on with this trend, things will only get worse!